This guest post was originally published at Kristian Still's education-focused blog: http://www.kristianstill.co.uk
Over the pass few weeks, away from my day-to-day duties, I have been either Moodling or in Moodle conversation. Most of my time has been spent investigating and applying the new Moodle features, supported by a very useful purposeful training event lead by the fantastically enthused Mary Cooch. I have spent time reviewing the new Moodle admin tools, learning how to upgrade and adding blocks to Moodle and finally contributing to the Quality Assurance Testing of Moodle 2.1 and visiting the 'tracker' listings. The later providing invaluable understanding and broader appreciation of Moodle, to inform our own Moodle roadmap.
Planning the Move to Moodle 2.+
Having made the decision to target Sept 2012 here is our roadmap.
August 2011 – Fresh installation of Moodle 1.9.11, Install Moodle 2.1 Dev site.
Sept 2011 – Student Digital Leader training (day workshop plus online course).
Oct to Dec – Staff focus group meetings. 'What are the expectations for the VLE?' Whole school benchmarking for course development, possibly linking to the BSG block. Staff expectations for Moodle 2.+ aligned with UPS Professional Attributes P2 and P7. Share VLE with 'Parents for Parents' focus group. Engage ICT and mentor programme to prepare whole school launch for Sept.
Jan to Feb 2012 – Directors of Learning, Student Services and Mentor Programme meetings to plan and organise course infrastructure, repositories, scales and outcomes.
Feb to Apr 2012 – Upgrade to Moodle 2.2. Staff advocate training with Student Digital Leaders (blended). DoL meeting – VLE review.
Feb – Apr  2012 – Department based training programme.
Apr – Migrate content to 2.2 production site. (Easter break)
May – Launch 'NEW' VLE to staff.
May – Directed time to developing VLE
Jun – Reports to DoLs of BSG progress.
July Upgrade to 2.3 if appropriate.
Sept – 'NEW' VLE to all students through ICT and mentor programme.
VLE to be added to teaching and learning observations and Performance Management.
There is a learning curve upgrading Moodler knowledge from 1.9 to  Moodle 2.0+. Notably the most anticipated Moodle 2.0 features, conditional activities and course completion, benefits 'active' participation (not discounting the impact of many other new features and UI improvements). To that aim I have been writing and road testing 'Course Design 101' a training course for Moodler upgrade.
The course first requires a Moodler to think through course design and 'blueprint' a Moodle course over a gradebook framework and examples both conditional activities and course completion.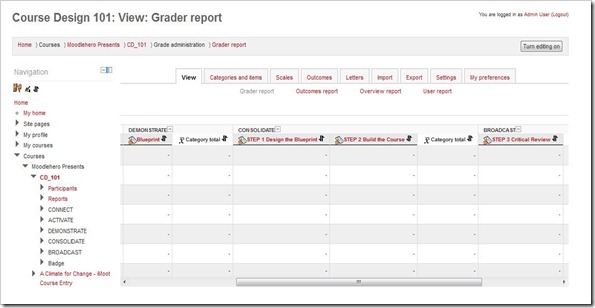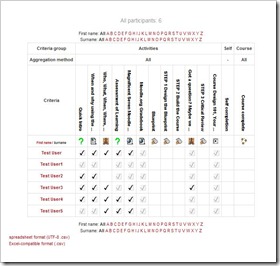 Second, the course requires a Moodler to build and then lead a course, with other enrolled users acting as their students. As a consequence they experience both 'teacher and student' viewpoints, for conditional activities and course completion.
As with many Moodle courses, you learn alongside  the students and I intend to make some revisions and additions over the next few weeks. For example, I am waiting for the new quiz engine, before adding a quiz and I really want to use the new blog feature.
Feel free to enrol and work through the course. Eventually, I aim to make it available for other Moodle institutions so if there is value in that idea, let me know.